Today I had the unfortunate task of stopping at the mall to exchange a pair of shoes and buy Colton some socks.
Ha. If you know me, you know that this is some SERIOUS sarcasm. There is something about malls that gives me a warm, fuzzy feelings inside.
But, alas, today was not a big shopping day. 1 exchange and 1 purchase of toddler socks. Not exactly a shopping spree, but I just like looking and walking around the mall. Happy girl!
One thing stood out to me on my trip through JCPenney. Near the center of the store, starkly in contrast to the many summer clothes that are still idling on nearby racks and clearance shelves, stood the beginnings of JCPenney's Christmas display. CHRISTMAS. It's still over three months away. Are you ready?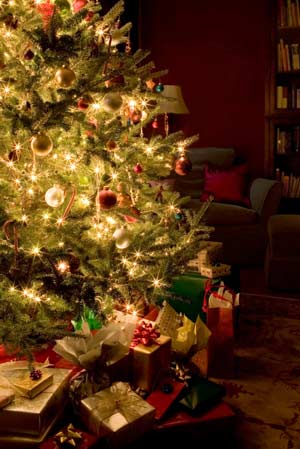 I'm not.
I can already tell that the holidays are going to be hard for me this year. I'm going to enjoy the season and cherish and savor every minute of it, but it will be dramatically different than 2010. Christmas 2010 was so relaxed, so easy, so fun - after all, it was Colton's first! And life was so laidback at that point.
And with Christmas come the presents! Ugh. I have a ginormous shopping list. Buying gifts that no one needs has gotten seriously difficult for me the last couple of years. What is the point? The one thing that I want cannot exactly be wrapped up and placed underneath a tree, unless there is a bag of magical medicine somewhere that can be topped with a bow. Truly, the only thing I'm asking for this year is a miracle. Perhaps also healing. Peace. Comfort. A Kodak moment to freeze in my mind that I can call upon in my memory for the rest of my life, like when our son was born. I can still picture every feature of his warm, soft newborn face. I intentionally seared that little face into my memory and prayed fervently that I would never forget what he looked like when he first opened up his eyes. I'd like another moment like that for Christmas this year.
My Christmas is going to remain intentionally simple this year. I have no desire to fall victim to the merchandising headache this year. I just want time to celebrate our God. I want time with my boys. I want for my heart to be unconditionally content.
And, I want this stinking cancer to be GONE.
Here's praying that Christmas 2011 be a time of love, family, and celebration of Jesus' birth, and a time of great hope and promise not just for the Prudhomme family, but for all of us. We have so much to be thankful for. And we all have 96 days to get our hearts in the right place.